| | | |
| --- | --- | --- |
| Welcome | | You are not currently logged in. |
Welcome to Local 71!

Greetings from Miami, Florida, home to Local 71 of the International Union of Elevator Constructors.
We are the mechanics, apprentices and helpers that build, maintain, repair, and modernize elevators, escalators, dumbwaiters,stage lifts, moving walks, wheelchair lifts and other vertical transportation equipment in South Florida.
We are an AFL/CIO affiliated labor union. We provide bargaining unit representation, education, pension, medical, dental, vision plan and other traditional union services to our approximately 850 members.
| | | |
| --- | --- | --- |
| | | |
| | | |
| | | |
Brothers and Sisters,
As I am sure you are aware, in these volatile times, social media is becoming ever more a flashpoint for conflict in our society. The members that we represent need to be aware of the fact that our major employers maintain social media policies for their employees and monitor social media for postings that they perceive may cause them problems with customers or the public at large. Although the IUEC will strive to protect the right of its members to express themselves as private individuals, it is imperative that members who post on public social media understand that it is at their peril that they do so in a way in which they identify themselves as employees of a company. Please stress to the members that they should never engage in social media posting while wearing a company uniform, while they are working on company time, while using a company owned device, or where they arguably associate their employer with their personal opinions on political or other sensitive matters.
We have had members disciplined and discharged for offensive postings while wearing identifiable company uniforms. Generally speaking, discipline for such actions will be sustained by both arbitrators and the NLRB. It is therefore best if the members exercise discretion in their public social media activities and take all steps possible to make sure that their employers are not associated with anything they post.
Please let us know if you have any questions regarding these issues.
Fraternally,
James K. Bender I I
IUEC Assistant General President
Brothers and Sisters,
We are happy to announce a new feature on iuec71.org - PAY DUES ONLINE
You will find this a valuable resource for you, especially as we approach the upcoming 3rd quarter billing period.
To use this feature, you will find a link under MEMBER RESOURCES, so you must be registered for iuec71.org. The dues payment screen asks for you to put in the amount you want to pay, along with your International Number. If you are not a member yet, call me and I will give you a number to use.
If you need assistance with registering for our website, please call me as well.
Take care and work safe,
Dawn
The IUEC MyLink member portal is now online.
You can access the instructions
here .
MyLink is a valuable tool for members to:
View and update your contact information and address
* View your Benefit Hours
* View your financial balance with the local (if your Local is using the Member Finance)
* Sign and submit documents such as Dues check off authorization, withdrawal request, etc.
* View document specific to your local, such as; Local Constitution & Bylaws, Local expense Agreements, Local jurisdiction, etc.
If you have any questions, contact the Union Hall.
Brothers and Sisters,
This information was received on Friday, May 8th. Due to technical difficulties, we were unable to pass this on to you.
Please review, and contact the Hall if you have any questions.
Fraternally,
Brother Greg Levenson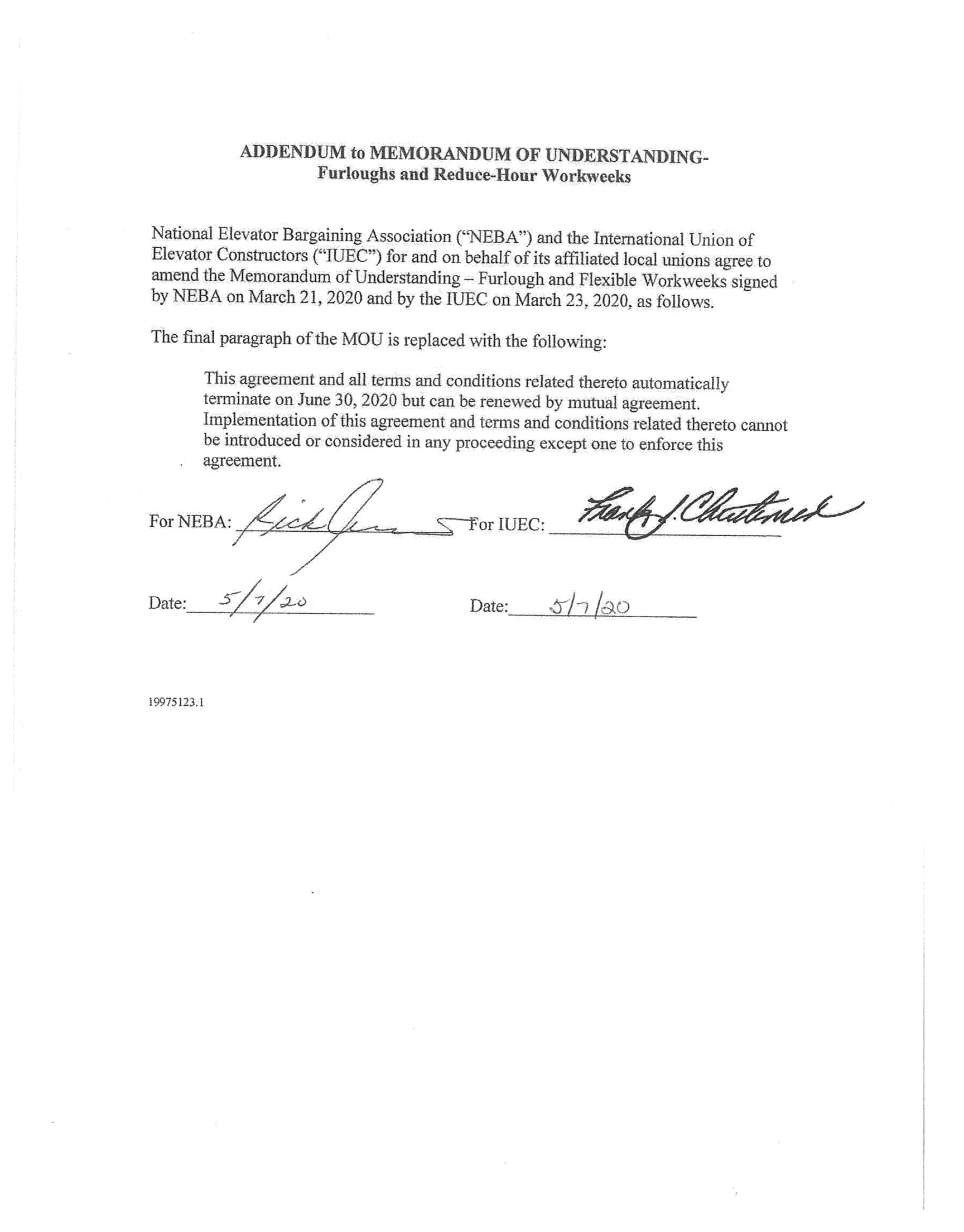 | | | |
| --- | --- | --- |
| | Upcoming Events | |
| | | |
| | | |