| | | |
| --- | --- | --- |
| Welcome | | You are not currently logged in. |
Welcome to Local 71!

Greetings from Miami, Florida, home to Local 71 of the International Union of Elevator Constructors.
We are the mechanics, apprentices and helpers that build, maintain, repair, and modernize elevators, escalators, dumbwaiters,stage lifts, moving walks, wheelchair lifts and other vertical transportation equipment in South Florida.
We are an AFL/CIO affiliated labor union. We provide bargaining unit representation, education, pension, medical, dental, vision plan and other traditional union services to our approximately 850 members.
| | | |
| --- | --- | --- |
| | | |
| | | |
| | | |
Dear Local 71 Brothers and Sisters,
If you wish to apply for this position and posess the qualifications listed below, please open the attachment below for instructions. Closing date is 10/13/21.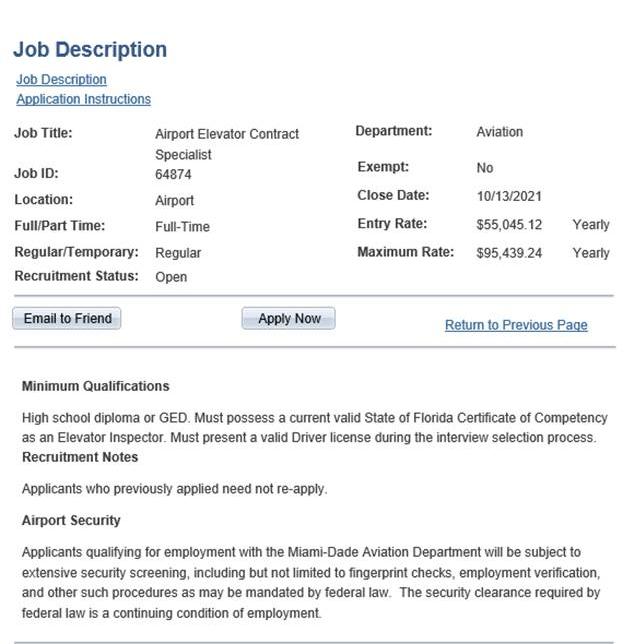 Download:

Online Employment Application Instructions.pdf
Brothers and sisters,
The staff at the Qualified Elevator Inspector Training Fund has asked Local 71 to pass on this important information to you concerning continuing education:
On behalf of the Qualified Elevator Inspector Training Fund (QEITF) Staff, I hope that you are all doing well by staying healthy and safe.
We know how busy everyone is so we thought we would send a reminder out regarding our current situation with continuing education classes during the pandemic
Due to continued travel restrictions for us, we will continue to offer live online WebEx classes to inspectors needing CEUs to renew their credential. Our live WebEx classes are 2-hours in length (0.2 CEUs) each, and offered through registered invites only.
If you are interested in registering to attend our live WebEx CE classes, or have questions, please contact our office at 1-888-511-3113 or visit our website at www.qeitf.org
To request a copy of our current schedule of classes please email Thea tmauer@eiwpf.org or Vivi vheard@eiwpf.org and they will be happy to send you the schedule of classes.
We encourage you to visit the Center for Disease Control or World Health Organization websites for the most reliable and current information on Coronavirus (COVID-19).
We're all in this together!
Mike
Michael D. Morand
Administrator
Qualified Elevator Inspector Training Fund
Brothers and Sisters,
We regret to inform you that our Brother Richard Palilonis has passed away on August 6th. Richard was a long term member of Local 71, from 1987 until his retirement as on Honorary Member in 2013, employed by Otis Elevator. He was the father of Brother Clay Palilonis who is employed by Otis.
Over the years, Rich worked side by side his fellow Brothers and Sisters, helping others along the way, being a true union member and friend.
Click here to view the memorial page and leave a memory on the tribute wall if you wish.
Services for Brother Palilonis are pending.
He will be missed. Please keep his family in your thoughts and prayers.
Local 71 Union Hall
Dear Brothers and Sisters,
We regret to inform you of the passing of our brother Sal Gonzalez. Sal passed away on Thursday August 12th after a brief illness. Sal had worked in the trade since 2007, recently employed by Otis.
He was a good union brother and friend to many, always having a smile on his face.
Information regarding services is below. Online obituary and tribute wall can be viewed by clicking here.
Sal will be greatly missed.
Please keep his family in your thoughts and prayers.
Local 71 Union Hall
Brothers and Sisters,
As I am sure you are aware, in these volatile times, social media is becoming ever more a flashpoint for conflict in our society. The members that we represent need to be aware of the fact that our major employers maintain social media policies for their employees and monitor social media for postings that they perceive may cause them problems with customers or the public at large. Although the IUEC will strive to protect the right of its members to express themselves as private individuals, it is imperative that members who post on public social media understand that it is at their peril that they do so in a way in which they identify themselves as employees of a company. Please stress to the members that they should never engage in social media posting while wearing a company uniform, while they are working on company time, while using a company owned device, or where they arguably associate their employer with their personal opinions on political or other sensitive matters.
We have had members disciplined and discharged for offensive postings while wearing identifiable company uniforms. Generally speaking, discipline for such actions will be sustained by both arbitrators and the NLRB. It is therefore best if the members exercise discretion in their public social media activities and take all steps possible to make sure that their employers are not associated with anything they post.
Please let us know if you have any questions regarding these issues.
Fraternally,
James K. Bender I I
IUEC Assistant General President
Brothers and Sisters,
Please disregard the auto generated email regarding Union Meeting on August 9th. Meetings are still suspended. Due to the recent rise in cases of COVID-19, the Officers of Local 71 wish to inform all that all meetings of Local 71 are suspended until further notice. This includes:
Local 71 Union Meeting which takes place on the 2nd Monday of the month (we will not be holding the meeting outdoors).

Local 71 Probationary Meeting which takes place on the 1st Monday of the month.

West Palm Beach and Naples satellite meetings.
We are committed to the safety and well being of all members. We will notify you when this decision changes and we feel we can meet safely again.
Local 71 Union Hall
| | | |
| --- | --- | --- |
| | Upcoming Events | |
| | | |
| | | |