| | | |
| --- | --- | --- |
| Welcome | | You are not currently logged in. |
Welcome to Local 71!

Greetings from Miami, Florida, home to Local 71 of the International Union of Elevator Constructors.
We are the mechanics, apprentices and helpers that build, maintain, repair, and modernize elevators, escalators, dumbwaiters,stage lifts, moving walks, wheelchair lifts and other vertical transportation equipment in South Florida.
We are an AFL/CIO affiliated labor union. We provide bargaining unit representation, education, pension, medical, dental, vision plan and other traditional union services to our approximately 900 members.
| | | |
| --- | --- | --- |
| | | |
| | | |
| | | |
The IUEC will, once again, pay respects to those heroes currently serving in the United States and Canadian Armed Forces in the November issue of the Elevator Constructor, in the Roll Call of Honor.
If you or a member of your immediate family are currently serving in the military, please submit the following information to the Local Business Manager or Business Representatives before September 26, 2022.
•

Division (branch) of the military
Names will be published in the November issue of the Elevator Constructor Journal.
The best way to get this information to us is via e-mail at local71@iuec71.org.
Brothers and Sisters,
Please look for an invitation in the mail by next week! We look forward to gathering to celebrate these honorary retirees who have retired through June 30th, 2022. If you have any questions, give us a call. Information regarding your RSVP can be found on the invitation. Please RSVP by September 26, 2022.
See you at the dinner!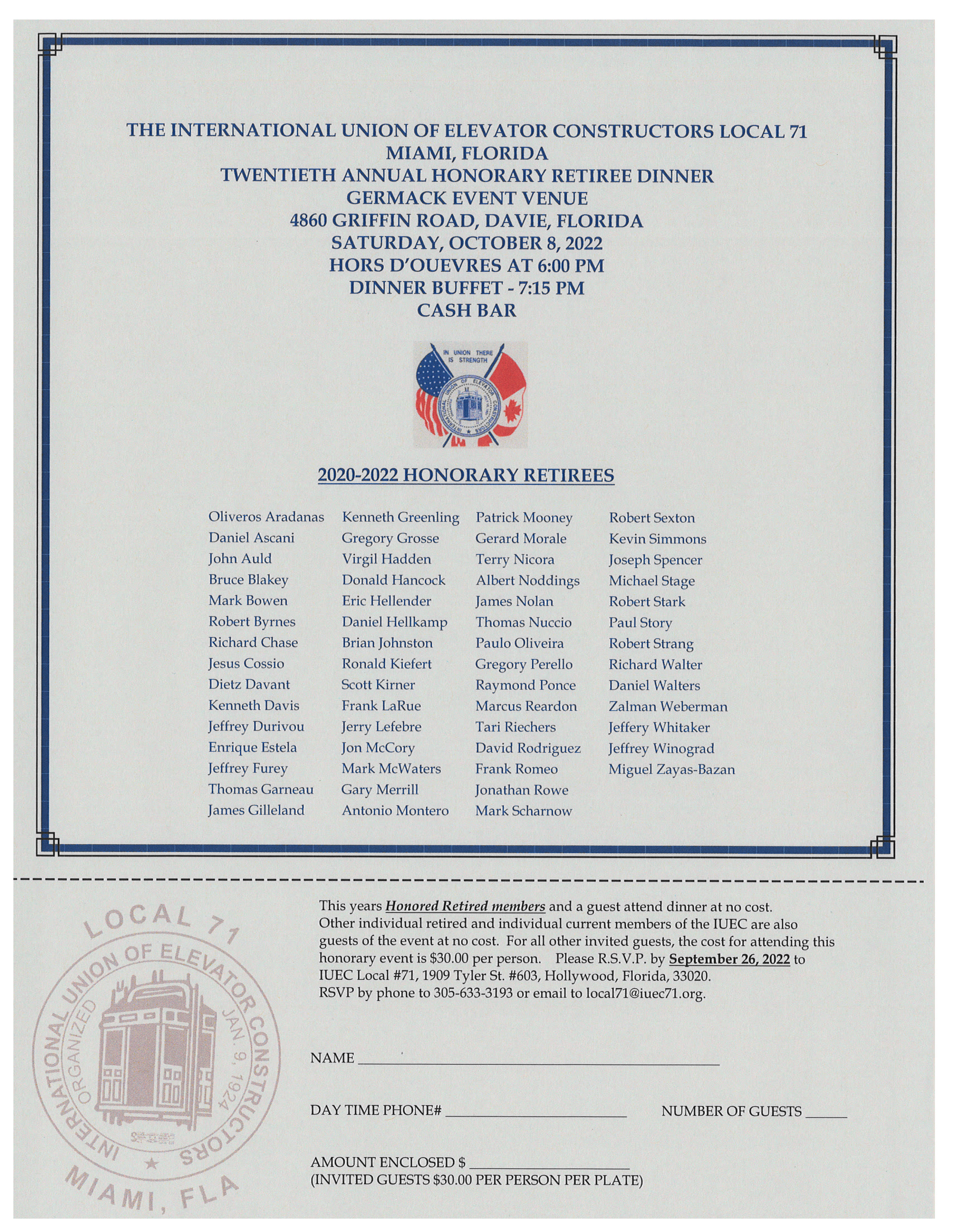 Download:

2022 Retiree Dinner.pdf
Class: 8 Hour QEITF Continuing Education Class – IUEC Local 71
When: Tuesday, October 11th, 2022, 8:00am to 5:00pm EDT
Where: IUEC Local 71, 3805 N.W. 35th Ave., Miami, FL 33142
Who: (Instructor): Instructed by Scott Hultstrom.
How Many: Not to exceed 20 per class.
Please contact the QEITF office at 888-511-3113 for a link to register and pay for a class.
What:
Course Outline:
NFPA 70 - 2020, Article 620

Elevators, Dumbwaiters, Escalators, Moving Walks, Platform Lifts, and Stairway Chairlifts
Maintenance of Qualifications
Review of A17.1-2019, Section 8.7, Alterations Process
A17.1- 2019, Section 8.11

review
A17.3 Changes from the 2017 to the 2020 edition
Review of A17.1-2019, Section 5.10 Elevators Used for Construction
---
R. Scott Hultstrom
National Coordinator
Elevator Industry Work Preservation Fund
6919 South Valley Stream Drive, Tucson, Arizona 85757 USA
Office: +1 520-308-5133, Cell: +1 520-300-1039
RESCHEDULED DUE TO WEATHER
FISHING TOURNAMENT IS NOW JUNE 11, 2022
AWARDS PARTY AND RAFFLE
SUNDAY JUNE 12TH
10:00 UNTIL 1:00 PM
AT THE LOCAL 71
MIAMI UNION HALL
3800 NW 35TH AVENUE
MIAMI, FL
FISH FRY AND REFRESHMENTS
RAFFLE PRIZES
AND ANNOUNCEMENT OF ALL WINNERS
FISH DONATIONS ARE WELCOME AND APPRECIATED!
IF ANY QUESTIONS, GIVE THE UNION HALL A CALL.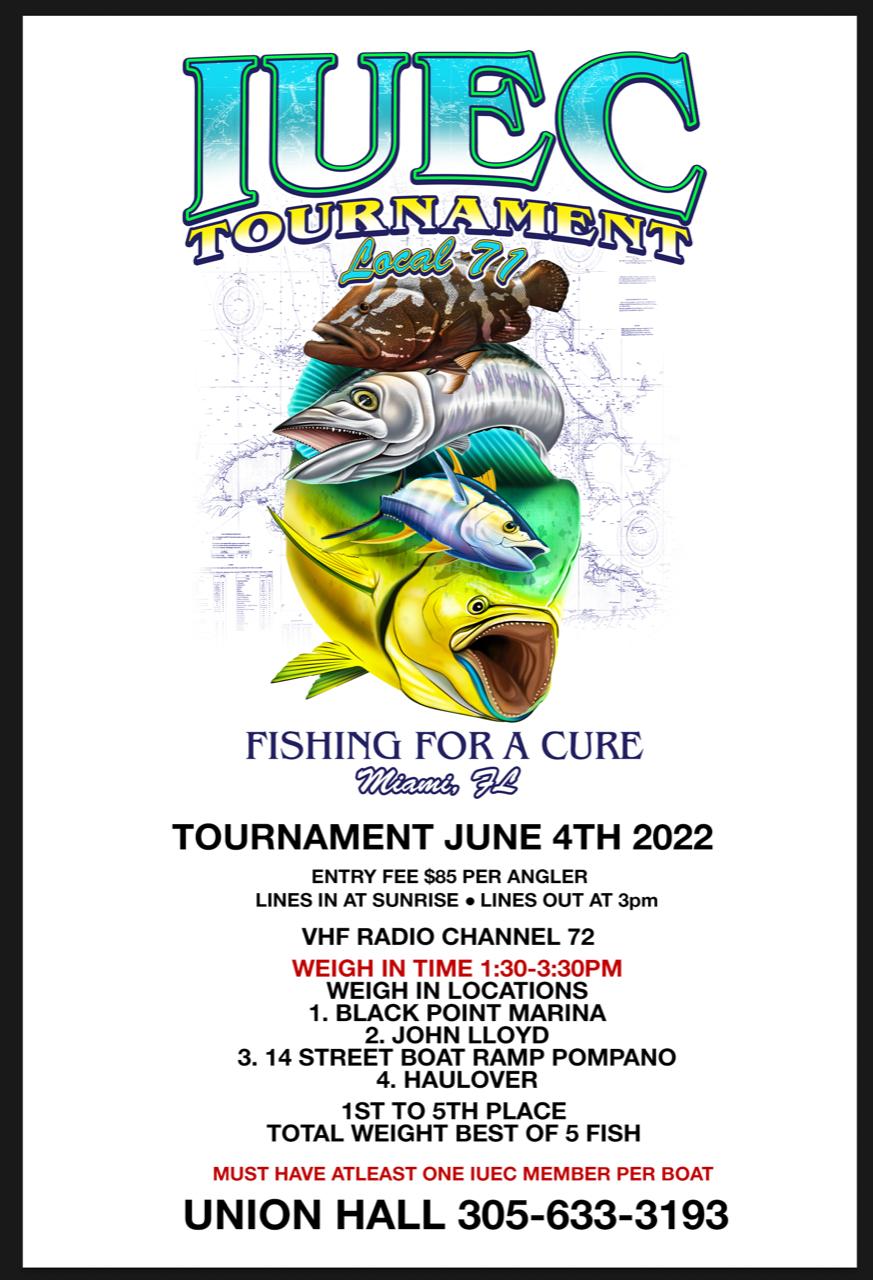 Download:

2022 Local 71 Fishing Tournament Registration Form.pdf ,

Fishing Tournament Party 6.5.22.docx
Brothers and Sisters,
Miami-Dade County has posted a career opportunity for Elevator Inspector. If you are interested and meet the qualifications, see information below in order to apply.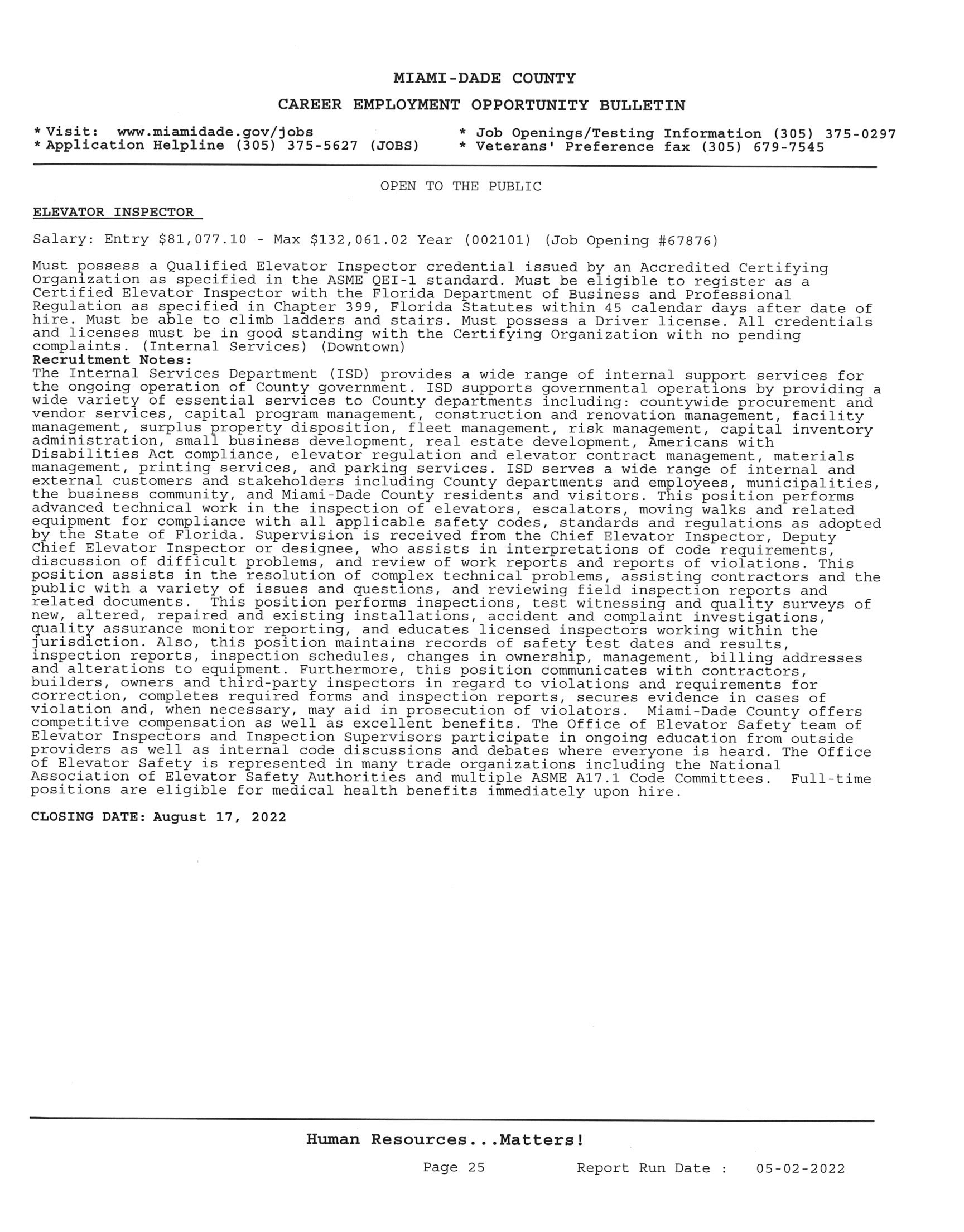 | | | |
| --- | --- | --- |
| | Upcoming Events | |
| | | |
| | | |