| | | |
| --- | --- | --- |
| Welcome | | You are not currently logged in. |
Welcome to Local 71!

Greetings from Miami, Florida, home to Local 71 of the International Union of Elevator Constructors.
We are the mechanics, apprentices and helpers that build, maintain, repair, and modernize elevators, escalators, dumbwaiters,stage lifts, moving walks, wheelchair lifts and other vertical transportation equipment in South Florida.
We are an AFL/CIO affiliated labor union. We provide bargaining unit representation, education, pension, medical, dental, vision plan and other traditional union services to our approximately 850 members.
| | | |
| --- | --- | --- |
| | | |
| | | |
| | | |
Brothers and Sisters,
The Trustees of the NEI Health Benefit Plan have approved an extension of the Special 14-Day Weekly Income Benefit through September 30, 2021. Eligibility for this benefit is unchanged and is available to anyone who has COVID-19 or must self-quarantine. A notice to the members will be mailed out shortly.
Local 71 Union Hall
Download:

SPECIAL-14-DAY-WEEKLY-INCOME-BENEFIT-FORM.pdf
Brothers and Sisters,
We are happy to announce a new feature on iuec71.org - PAY DUES ONLINE
You will find this a valuable resource for you, especially as we approach the upcoming 3rd quarter billing period.
To use this feature, you will find a link under MEMBER RESOURCES, so you must be registered for iuec71.org. The dues payment screen asks for you to put in the amount you want to pay, along with your International Number. If you are not a member yet, call me and I will give you a number to use.
If you need assistance with registering for our website, please call me as well.
Take care and work safe,
Dawn
The IUEC MyLink member portal is now online.
You can access the instructions
here .
MyLink is a valuable tool for members to:
View and update your contact information and address
* View your Benefit Hours
* View your financial balance with the local (if your Local is using the Member Finance)
* Sign and submit documents such as Dues check off authorization, withdrawal request, etc.
* View document specific to your local, such as; Local Constitution & Bylaws, Local expense Agreements, Local jurisdiction, etc.
If you have any questions, contact the Union Hall.
Brothers and Sisters,
This information was received on Friday, May 8th. Due to technical difficulties, we were unable to pass this on to you.
Please review, and contact the Hall if you have any questions.
Fraternally,
Brother Greg Levenson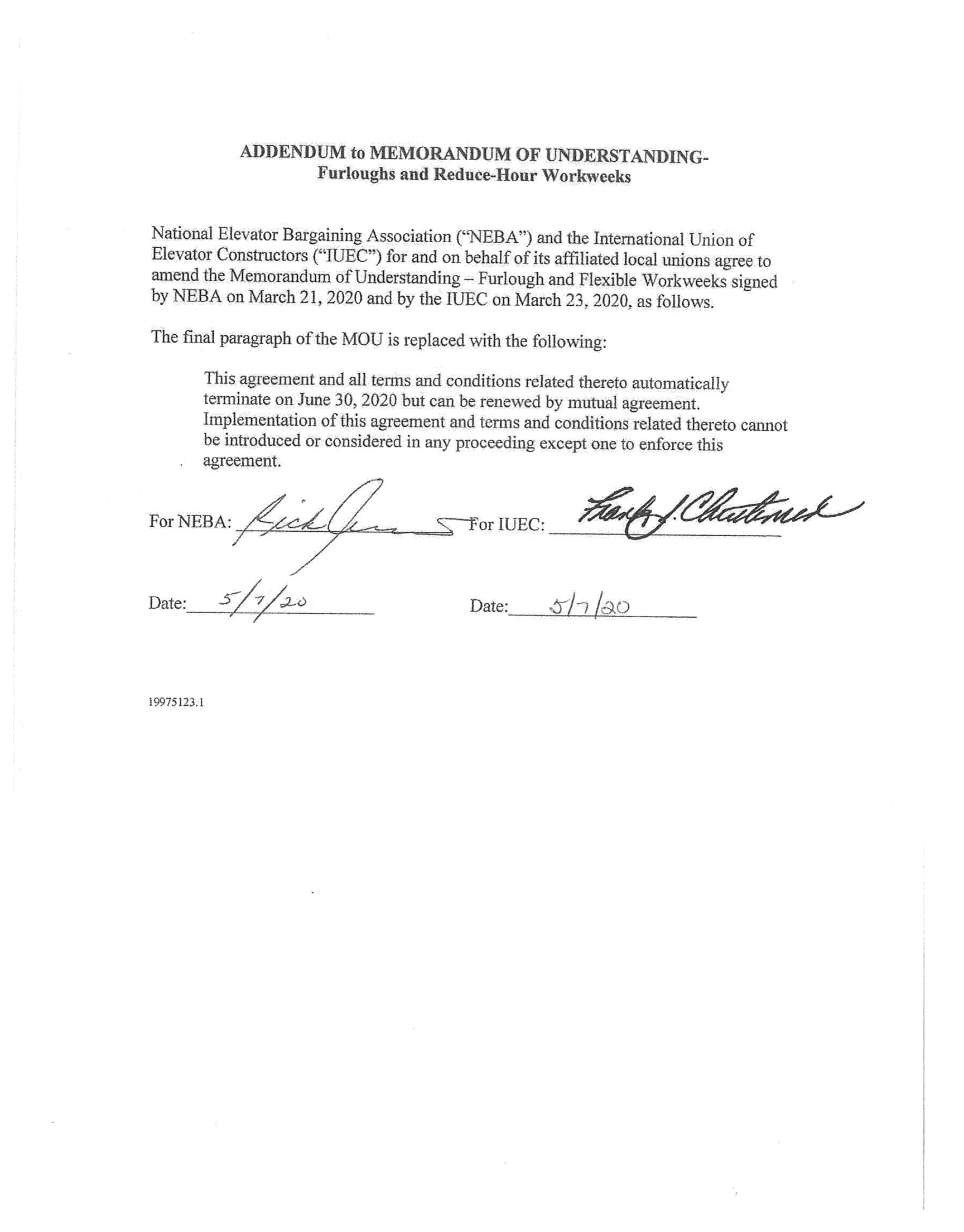 Dear Brothers and Sisters,
I am asking for your support, please review the important information provided in the letter below from Michael Scott, Executive Director of the National Coordinating Committee for Multiemployer Plans-NCCMP. By our IUEC local leaders and members reaching out to Congress, this will reinforce the much-needed relief to the pension and health funds to be considered for future stimulus. Please use the contact information and talking point links provided to contact your Congressman or Congresswoman who can influence the decision while this is in the discussion period. Your voice and emails are needed during this crisis.
On behalf of your General Officers we appreciated your continued efforts to get the job done.
Fraternally,
Larry J. McGann
General Secretary-Treasurer
Dear Multiemployer Community,
Today, the President signed H.R. 266 which provided additional authority for the Paycheck Protection Program and support for health care providers. This is commonly referred to as the COVID 3.5 stimulus package. In less than eight weeks, the COVID-19 pandemic has put more than 26.4 million Americans out of work and driven Congress and the Federal Reserve to structure more than $20 trillion in financial market liquidity and direct aid to the economy.
The hard work now begins on a broader, more comprehensive stimulus bill (either "CARES 2" or "COVID 4.0") which addresses the areas that have been left out of the previous relief packages. Congress must now include multiemployer pension relief and federal support for COBRA premiums in CARES 2/COVID 4.0. As engaged participating members of the multiemployer community, we all know how important it is to get Congress to act on these two critical priorities.
The crisis in a limited number of systemically important multiemployer pension plans has been deeply exacerbated by the COVID-19 pandemic, the related market collapse, and the government mandated shutdown of the U.S. economy. The shutdown of the economy has resulted in millions of unemployed workers and significantly reduced contributions to multiemployer pension and health plans. While the full impact of the health and economic crisis will not be known for some time, there is no doubt that the impact on participants, employers, plans and the PBGC will be severe.
We call on each of you to reach out personally to your Senators and Representatives to impress upon them the urgency of multiemployer pension legislation and COBRA premium support in the next COVID bill.
To assist you, we are attaching the contact information for particularly important Congressional leaders and their staff (the first tab is a priority ranking; the second tab is sorted by state). Below (and attached) are talking points that you may consider using in your outreach.
Please reach out to us if we can provide you with any information or support. If you have the opportunity, please let us know which offices you have contacted.
National Coordinating Committee for Multiemployer Plans - NCCMP
Download:

Congressional Contact List Pension and COBRA.xlsx ,

Congressional Talking Points.docx
| | | |
| --- | --- | --- |
| | Upcoming Events | |
| | | |
| | | |