| | | |
| --- | --- | --- |
| Welcome | | You are not currently logged in. |
Welcome to Local 71!

Greetings from Miami, Florida, home to Local 71 of the International Union of Elevator Constructors.
We are the mechanics, apprentices and helpers that build, maintain, repair, and modernize elevators, escalators, dumbwaiters,stage lifts, moving walks, wheelchair lifts and other vertical transportation equipment in South Florida.
We are an AFL/CIO affiliated labor union. We provide bargaining unit representation, education, pension, medical, dental, vision plan and other traditional union services to our approximately 900 members.
| | | |
| --- | --- | --- |
| | | |
| | | |
| | | |



Brothers and Sisters,





The location of the regular monthly Local 71 Union Meeting, 
which takes place on the 2nd Monday of the month at 6:00 pm, 
has changed effective March 13, 2023.





The new location is:




Sheetmetal Workers Union Hall




20375 NE 15th Court




N. Miami Beach, FL  33179





Until further notice, this change will affect all future meetings. 

See you there!





Local 71 Union Hall 

TO ALL RETIREES
Join Local 71 at our next
Retirees Breakfast on
February 23, 2023 at 8:00 AM
Cracker Barrel Old Country Shop
1960 NW 150th Ave
Pembroke Pines, FL 33028
Please call Local 71 at
305-633-3193
to reserve your seat.
This has been approved by Local 71 membership to give every retired member the opportunity to get together and talk about the past and future. This event is only for retired members and office staff.
See you there!
Please see the information below. There are two recruitment drives, and they are based on specific areas.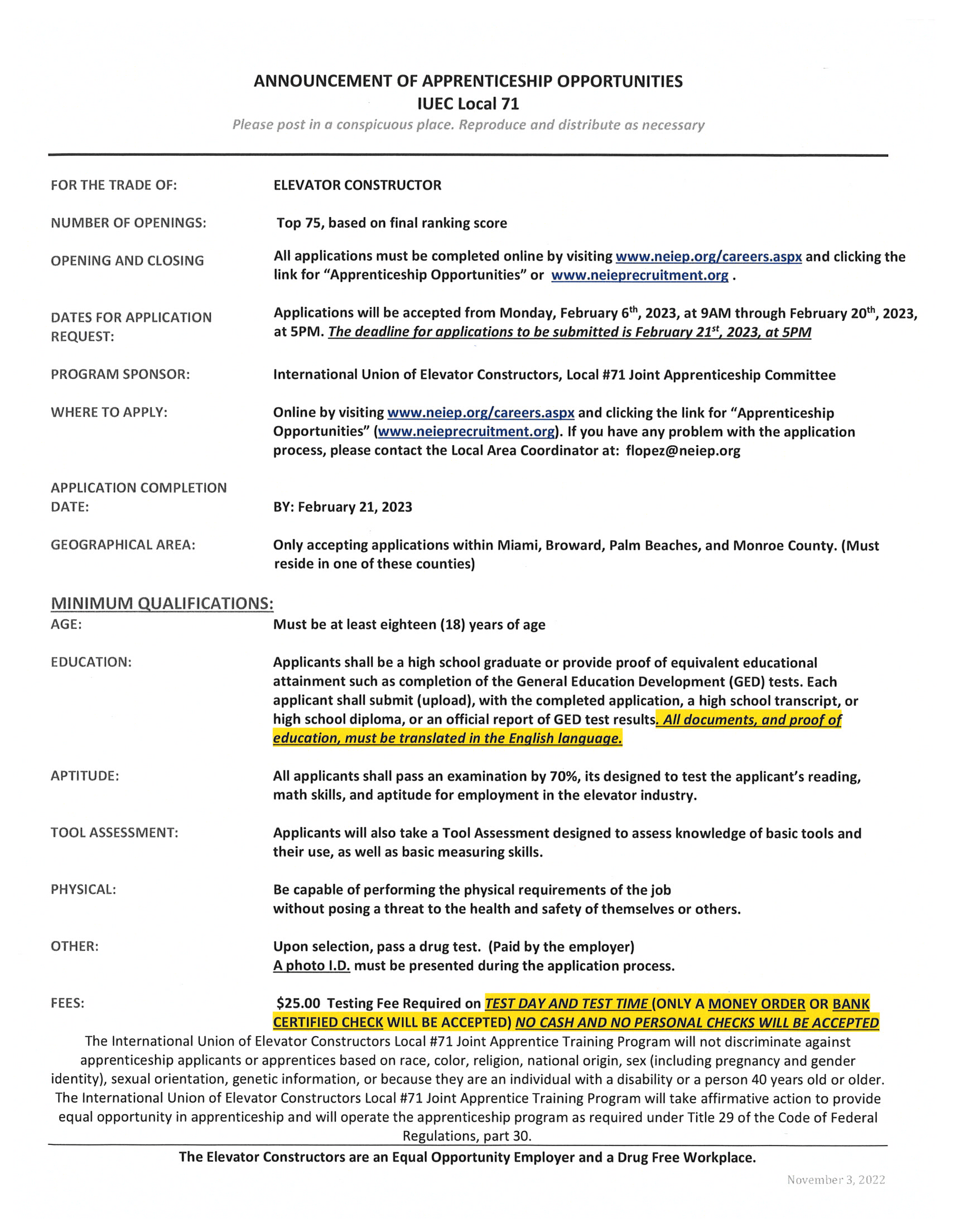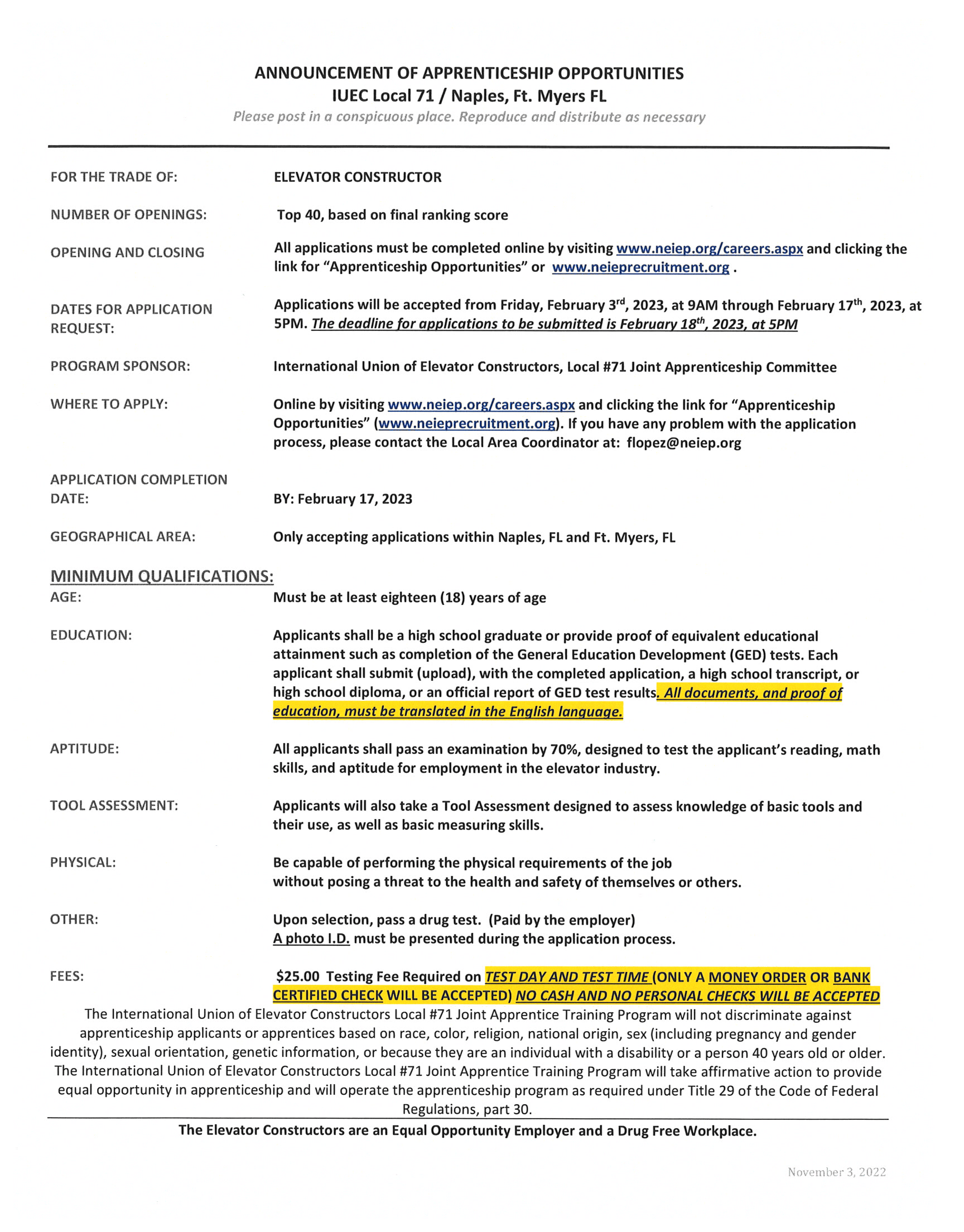 Effective January 1, 2023, the I.R.S. standard mileage rate for business use of an automobile will be 65.5 cents per mile. This represents an increase of 3.0 cents per mile from the prior year's rate. (Internal Revenue Service Notice 2023-03.)

Brothers and Sisters,
As most of you are aware, we are the conducting business of Local 71 in our new Hollywood location.
Union meetings, Probationary meetings and NEIEP school) will still be conducted in Miami.
If you use the Miami address for your payments and correspondence, we will receive it via USPS mail forwarding but it will take longer to get to us.
We prefer that you mail all payments and correspondence to:
IUEC Local 71
1909 Tyler Street, Suite 603
Hollywood, FL 33020
If you have any questions, please call or email us at the union hall office.
Happy Holidays to all!
Local 71 Office
Upcoming Events

Local 71 Union Meeting
Apr 10, 2023
Sheet Metal Workers Union Hall 20375 NE 15th Ct. North Miami Beach, FL 33179

Local 71 Union Meeting
May 08, 2023
Sheet Metal Workers Union Hall 20375 NE 15th Ct. North Miami Beach, FL 33179